Bring your

Story

to life
Atrium streamlines NFT commissions, providing a seamless process from bid to reveal and helps transform your story into a 1-1 masterpiece.
Explore auctions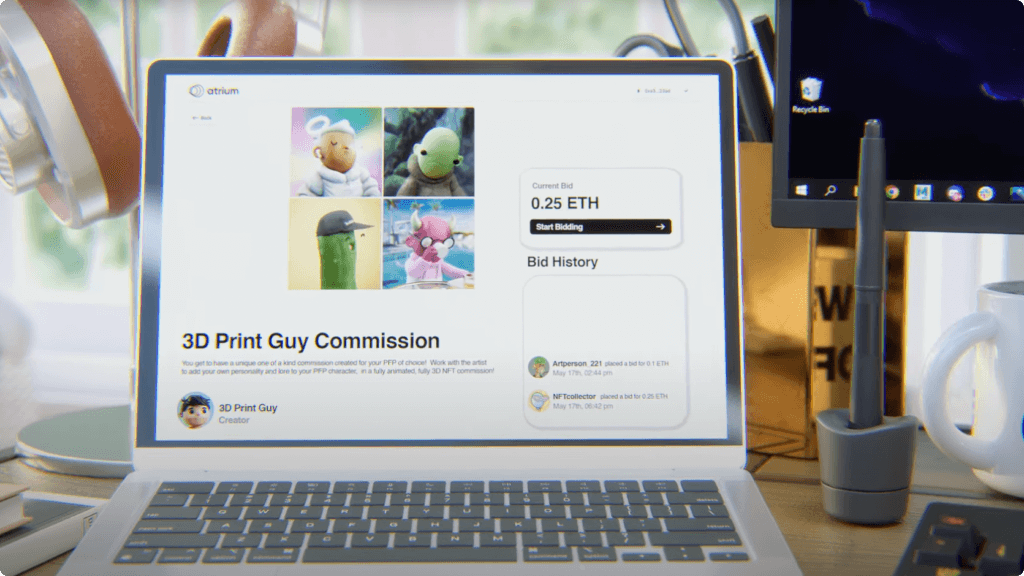 The process at Atrium
How it works?
1
Know your artist
Discover & learn about their vision, inspirations, and ideas for their collections in their profile.
2
Bid for their active listing
An artist will post a new token in their collection when an upcoming piece is available. Bid and commission your favorite NFT in their artistic style and vision.
3
Win the bid and claim NFT
When the reserve price for a token is met, a 24 hour auction begins. Bids placed in the last 15 minutes of an auction will extend time by an additional 15 minutes.
4
Connect with the artist
We help you connect with your Artist and walk through a series of questions to personalize the commission via Discord / Twitter.
5
Get your final derivative
Artist sends sneak peaks of your commission throughout the process. When completed, your NFT from the winning auction transforms into the final commission.
Frequently asked questions?
You will receive an estimate for a time frame, and receive sneak peaks throughout the creation process after connecting with the artist.
To celebrate the completion of a commission we will hold a space interviewing the Artist about the process, and unique moments throughout the creation of the NFT. We invite you to participate in this as well but it is not a requirement, as mentioned above you will receive updates and sneak peeks to keep your FOMO at bay.
We have defined a few key questions to help the artist gain insight into your connection to your NFT and interests IRL. These and other questions are built with the intent to increase the connection to your commissioned art.
We are always looking for new talent, please provide some example links of your work and socials here so we can begin a conversation.
The bidding process represents the cost you are willing to pay for the token, but to settle the auction, that requires a fee. This will fluctuate depending on the price of gas at the time of claiming.